Salsa Latin Dance
This class is taught by: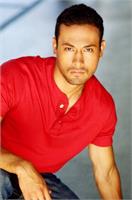 Robert "Chino" Lopez got his start in dance as a b-boy, back in Arizona. He eventually transitioned to other forms of dance like hip hop choreo, popping, ballroom, contemporary ,jazz, samba, and and all latin styles including salsa. What Chino loves most about his work in dance has been his opportunities to work with charities, giving back to those less fortunate. He passionately shares his knowledge with anyone willing to learn. Chino has worked with artists such as Eminem, J-Lo, Ingrid Michaelson, Jody Watley, Sergio Mendes, and Far East Movement just to name a few. He has been featured on America's best Dance Crew, Dexter, How I Met Your Mother, Indiana Jones, Transformers 3, Honey 2 and many commercials from Nike, Verizon, Guess, Boost and many others.
Salsa class- A fun paced latin class focusing on footwork, timing, agility, diversity, and partnering all the while getting a great cardiovascular work out. No partner needed, but come with a partner if you like.
Upcoming classes: