Pilates fusion on the mat
This class is taught by: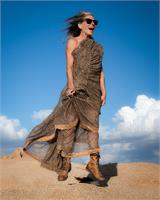 Tannis Kobrinsky, owner of Pilates & Arts, has been an Echo Park resident for 20 years. Classically trained in Ballet, as well as Jazz and modern dance, she's taught movement and fitness for 4 decades. A Theater major, she worked in the entertainment industry in front of and behind the camera, but teaching the joys and healing power of movement has been a constant and a passion all her life. She studied directly with BASI Pilates International founder Rael Isacowitz, earning a comprehensive BASI Pilates certification in 2000. She certified in GYROTONIC and GYROKINESIS in 2005. She's taught Pilates since 2000 in Los Angeles and internationally, via her business, Health Habitravels. 2010 she produced and starred in the award winning DVD "WELL worked out with Tannis. " and is also a produced and published writer.
Energy-infused, fun workout weaves together Pilates' core work, energizing Qi Gong moves and gentle yoga based stretches. Eclectic music adds inspiration. This program keeps you strong, supple and healthy at every age! Beginners welcome!
Upcoming classes: