Ballet Basics
This class is taught by: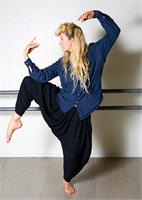 Jasmine Albuquerque is a dancer, choreographer, and instructor. She has danced with such companies as Hysterica, Blue13 Bollywood, Collage Dance Theater and Ryan Heffington's psycho-dance performance Fingered. Other live performances include KTCHN, We Are the World, Hazm, and Hecuba in various venues around LA such as the Hammer Museum, the Ford Amphitheater, Mack Sennett Studios, MOCA, the Orpheum Theater, LACMA, the Joshua Tree Music Festival, and even a laundromat. She has choreographed music videos for Devendra Bandhart (directed by Isaiah Saret) and Bob Wayne (directed by Jennifer Tzar) and danced in videos for MIKA, Laura Marling, Verve Records, Beck, You Will Know Us By the Trail of the Dead, Morcheba, and Todd Edwards. She studied contemporary movement in Budapest, Hungary and at The Edge in Hollywood after years of classical ballet and jazz training. While majoring in History, she danced for the Department of World Arts and Cultures at UCLA and later taught movement workshops in Chiapas, Mexico and Copenhagen, Denmark. Her current work with WIFE continues to challenge and inspire her as a performer.
Designed to introduce the body to ballet and to train in a balletic modality of mind body connection this 60 minute class focuses on strengthening muscles and mind, while discovering grace and fluidity in the body. After a slow barre warmup class progresses to more traditional ballet exercises and culminates with a few studies off-barre that function as the foundation for more complicated movement arrangements. Beginners welcome.
Upcoming classes: