Classic Ballet Variations
This class is taught by: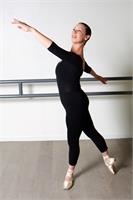 In 2002, Amanda earned her Pilates Teacher Certification from Perfectly Fit in La Canada, CA. She has been teaching continuously in Los Angeles ever since & uses that knowledge in her dance classes.
Amanda studied Intercultural Choreography at UCLA. She has 20 years of Ballet experience, most recently studying with Edouard Kouzmitch in Los Angeles and Angel Corella in Spain. Additionally, she has trained in tap, Bharata Natyam, Korean Dance, Ba Gua Zhang Tai Chi and Ariel arts.
That diversity of dance experience not only proved that Classical Ballet is her true passion, but that a strong Ballet technique creates a foundation which a dancer can utilize in any dance discipline.
Above all else, Amanda believes Ballet should be a fun and rewarding addition to everyone's life.
Classical Ballet Variations
Ballet Variations introduces ballet students to the famous choreography of ballets such as Don Quixote, Sleeping Beauty, Le Corsaire and Giselle, etc. Students will gain knowledge of many famous ballets while learning to perform challenging variations. This class builds strength, poise and awareness of the true aspects of performance.
Each variation will be taught for 4 weeks allowing students to learn and grow in the choreography. Previous ballet experience required.
There will be a short warm up given in class, but it is recommended that students attend the 6-7PM Ballet Barre class first. If this is not possible, please arrive before 7:30 to begin to warm up on your own.
Upcoming classes: