Tai-Chi Yang Longform
This class is taught by: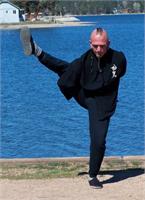 Ralph "Rafa" Gorodetsky has been teaching Yang style tai chi for 10 years, studying diligently with lineage Grandmaster Kai Ying Tung for over 15. He takes the practice very seriously, even though he incorporates a great deal of humor into class. He believes that Taoist moving meditation is one of the best things for people's health, both mentally & physically, and the main thing that's keeping them from practicing is proper exposure to its practicality.
Tai-Chi with Ralph Gorodetsky. This is a 60 minutes class that will cover the traditional Yang long form Tai Chi, and also include different Qi gong forms: organ specific qi gong, and basic, simple exercises to take care of all the muscles, joints, ligaments, skeletal structure & balance. All levels welcome. Loose clothes recommended.
Upcoming classes: