Stephanie Ellison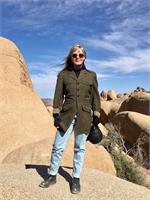 Stephanie Ellison started teaching Pilates in 2000, and was certified at Performing Arts Physical Therapy and The Pilates Studio of LA. She went on to train with Romana Kryzanowska, Joseph Pilates' protege, while working at Winsor Pilates. Exploring creative play as an exercise alternative led Stephanie to study circus arts and establish a Pilates studio at Bumbershoot Aerial Arts in St. Louis in 2009. While in St. Louis, she taught courses under the Dance Department at Washington University. Stephanie has worked in rehabilitation and has trained professional dancers, musicians and athletes, as well as those brand new to the Pilates Method. She has volunteered at The Boys and Girls Club and 826LA. Pilates & Arts has been her home-base studio in Los Angeles on and off since 2012.
Stephanie Ellison instructs the following:
All levels welcome. 55-60 minute Pilates workout. Most of the session devoted to work on the spring loaded Pilates machines, but may also include some matwork. This is a mindful full body workout that builds core strength, increases flexibility, improves balance, alignment and coordination. Maximum of 6 students taught by 1 instructor. Small classes allow us to provide individual attention and hands on guidance.




The goal of this class is to build to a strong traditional one hour mat workout that seamlessly transitions from one exercise into the next, and for each student to become aware of their individual strengths and weaknesses and how to find personal balance. This class sometimes uses props, breaks down exercises, or brings in new movements to keep the muscles and mind stimulated and engaged.




Group reformer for 3-6 participants. An intermediate to advanced class that generally includes the classical Pilates exercise regime and sequencing. Prior experience on the reformer and/or instructor's approval required to join this class.




A group reformer class with 3-6 students. Emphasis on working a bit slower than other mixed level classes, with attention to individual students needs for modification of movements. Good for beginners; those returning to exercise. There may be attention to rehabilitation if needed.