Cameron Jappe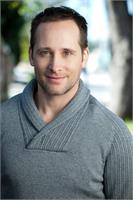 Cameron is a certified trainer in the GYROTONIC® EXPANSION SYSTEM and GYROKINESIS® methodology and Pilates. He teahes Pilates and GYROKINESIS® at our studio. He has a rich and diverse background that includes the study of Iyengar Yoga and Feldenkrais Method of Somatic education. Cameron holds a B.A. from Pepperdine University and an M.F.A. from The Theater School at De Paul Univsertiy in Chicago. He appreciates helping clients look and feel their absolute best through precise, dynamic and joyful movement.
Cameron Jappe instructs the following:
Group reformer for 3-6 participants. An intermediate to advanced class that generally includes the classical Pilates exercise regime and sequencing. Prior experience on the reformer and/or instructor's approval required to join this class.




All levels welcome. 55-60 minute Pilates workout. Most of the session devoted to work on the spring loaded Pilates machines, but may also include some matwork. This is a mindful full body workout that builds core strength, increases flexibility, improves balance, alignment and coordination. Maximum of 6 students taught by 1 instructor. Small classes allow us to provide individual attention and hands on guidance.