Noemy Hernandez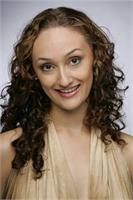 Noemy Hernandez started off as a dancer and dance instructor. She holds a BFA in Dance with a specialization in Choreography from the University of California, Irvine, graduating cum laude. It was at UC Irvine that she discovered the benefits of Pilates. She noticed that her chronic back pain would disappear with the regular practice of Pilates. She completed her Pilates teacher training with Ellie Herman—designer of the Pilates springboard and author of Pilates for Dummies and other published Pilates works. Noemy has used her knowledge from Ellie Herman to bring Pilates to Calpulli Mexican Dance Company (NYC). She also has taken prerequisites to become a Physical Therapist, and uses her knowledge of anatomy and physiology to inform her as a Pilates teacher. She is a new addition to Los Angeles, and looks forward to helping people have healthy bodies with Pilates on the west coast!
DANCE: Noemy Hernandez was appointed Artistic Director of New-York based Calpulli Mexican Dance Company in February 2012 after forming part of the artistic staff for four years prior as a choreographer, rehearsal director, and dancer. She holds a BFA in Dance with a specialization in Choreography from the University of California, Irvine, graduating cum laude. She also minored in the fields of Drama and Management. Noemy's most recent credits are in New York City. Ms. Hernandez choreographed works for Latin jazz artist Arturo O'Farrill and the Brooklyn Philharmonic. She also choreographed for Shakespeare in the Park's The Tempest.
Ms. Hernandez is a native of Southern California. There she began dance training at the age of 4, first in Mexican folkloric dance and then continued to study ballet, jazz, contemporary dance, musical theater, and flamenco. Just like Spanish was her first language, ballet folklorico was her first dance experience and holds a very special place in her repertoire.
As a performer, Ms. Hernandez was a principal dancer with Pacifico Dance Company, Grandeza Mexicana Folk Ballet led by Jose Vences, and shared the stage with Viviana Basante-Hernandez
Ms. Hernandez is also a gifted Teaching Artist. She served as a master instructor with YoungArts and worked as a Teaching Artist with the New York City Department of Education, sharing her knowledge and love of dance with children throughout the city.
Noemy Hernandez instructs the following:
Group reformer for 3-6 participants. An intermediate to advanced class that generally includes the classical Pilates exercise regime and sequencing. Prior experience on the reformer and/or instructor's approval required to join this class.




All levels welcome. 55-60 minute Pilates workout. Most of the session devoted to work on the spring loaded Pilates machines, but may also include some matwork. This is a mindful full body workout that builds core strength, increases flexibility, improves balance, alignment and coordination. Maximum of 6 students taught by 1 instructor. Small classes allow us to provide individual attention and hands on guidance.




Group reformer class that incorporates using the reformer jump board platform to do a cardio based workout ON the Pilates machine. The springs on the machine make jumping a lower-impact move than performing the same movements upright. Not recommended for those new to Pilates classes, during pregnancy, or for those with injuries or chronic health conditions.