Ammo Bankoff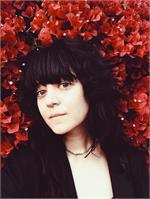 Ammo, a professional photographer, videographer, and musician, casually practiced mat pilates and yoga over the years. In 2015 she came to the studio and immediately felt at home in the arts and wellness oriented Pilates & Arts community. Soon after she took the Body Arts and Science International Pilates teacher training course and become a Pilates instructor. She's now the studio coordinator and a Pilates & Arts instructor. Along with being a mind body movement practitioner, Ammo's studying nutrition, and enjoys helping her clients incorporate every aspect of wellness into their life styles.
Ammo Bankoff instructs the following:
All levels welcome. 55-60 minute Pilates workout. Most of the session devoted to work on the spring loaded Pilates machines, but may also include some matwork. This is a mindful full body workout that builds core strength, increases flexibility, improves balance, alignment and coordination. Maximum of 6 students taught by 1 instructor. Small classes allow us to provide individual attention and hands on guidance.




Group reformer for 3-6 participants. An intermediate to advanced class that generally includes the classical Pilates exercise regime and sequencing. Prior experience on the reformer and/or instructor's approval required to join this class.




A group reformer class with 3-6 students. Emphasis on working a bit slower than other mixed level classes, with attention to individual students needs for modification of movements. Good for beginners; those returning to exercise. There may be attention to rehabilitation if needed.