Amanda Macleod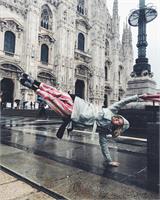 Cultivated in Jackson Hole, Wyoming, blossomed in NYC, and transplanted in LA. Amanda has spent her life dedicated to a diverse array of physical pursuits including yoga, alpine skiing, whitewater kayaking, biking, and any other adrenaline-inducing mountain sport she can get her hands on.
She found Pilates after a debilitating back injury took her away from her dance training. Through a dedicated practice, she came back stronger than ever before and was able to return to her career as a professional dancer. She is currently a member of the 2nd DIAVOLO dance company. She holds a BFA in Dance from Rutgers University, and received her comprehensive Pilates certification from Body Arts Science International, where she apprenticed under the mentorship of Rael Isacowitz. She loves helping her clients deepen their awareness and connection to themselves, and believes that Pilates provides unparalleled strength and balance to any lifestyle.
Amanda Macleod instructs the following:
All levels welcome. 55-60 minute Pilates workout. Most of the session devoted to work on the spring loaded Pilates machines, but may also include some matwork. This is a mindful full body workout that builds core strength, increases flexibility, improves balance, alignment and coordination. Maximum of 6 students taught by 1 instructor. Small classes allow us to provide individual attention and hands on guidance.




A group reformer class with 3-6 students. Emphasis on working a bit slower than other mixed level classes, with attention to individual students needs for modification of movements. Good for beginners; those returning to exercise. There may be attention to rehabilitation if needed.